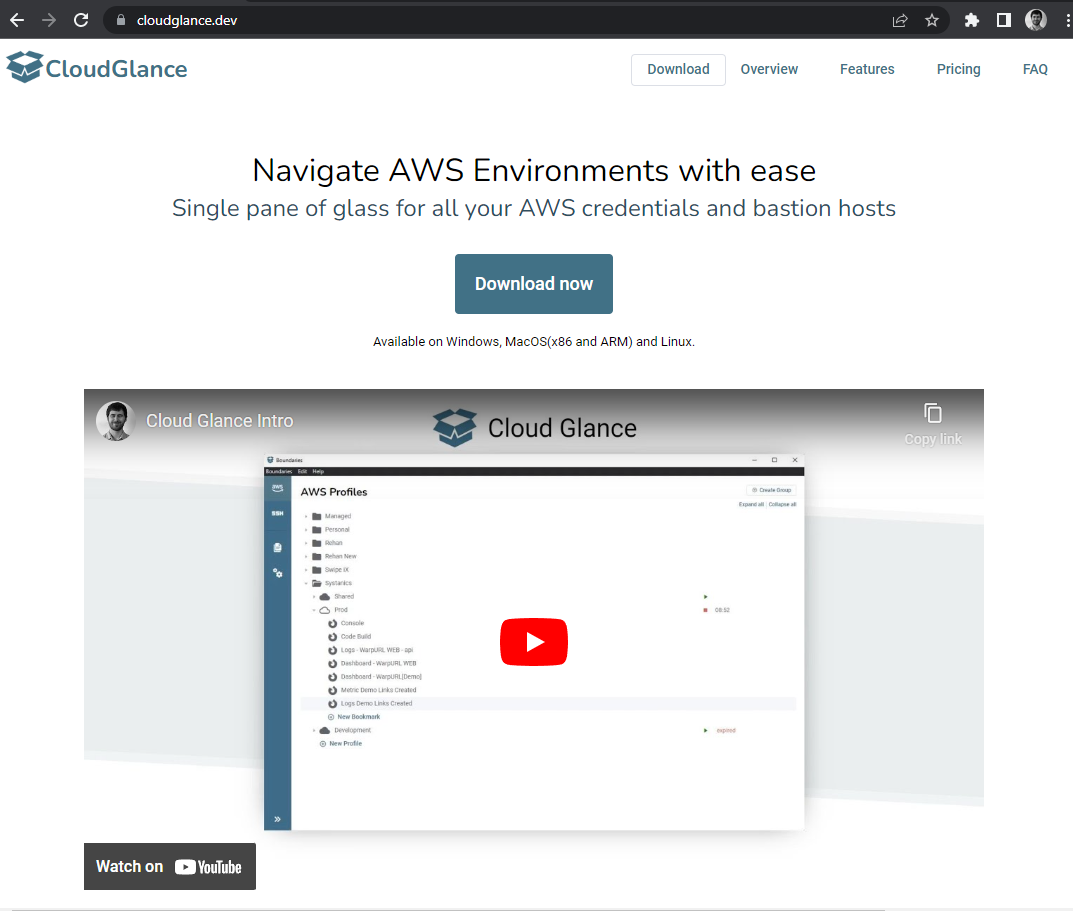 The launch of Cloud Glance
September 2022 Retrospective
It's been a while since I have written one of these, but I want to get back into the habit of building in public again. I launched Cloud Glance at the beginning of the month and this time around it is going much better.
I had great feedback on Twitter, Linkedin and from posting in two slack #random channels. There is currently around 20 DAU (daily active users), which is just awesome considering that I did not have to bend over backwards to do a lot of marketing. This is also a sign indicating product market fit. I am happy with this small number for now, it is a very niche market and problem that I am trying to solve.
Fun fact, I have no website analytics at all. I just didn't spend the time (actually slipped my mind), and I have to say, it is a breath of fresh air. The only real metric that counts for me at this point is the daily active users.
Last Month's Profit
| Project | Profit | Monthly Change |
| --- | --- | --- |
| Cloud Glance | -$100 | 0% |
My only expense was joining the Apple Developer program so that I could sign the Mac App. No income yet, but maybe soon. At this point in time, I would first like to build something really valuable to the current user base and iron out most of the bugs. I want to be transparent about the fact that I do plan to charge a few $ per month in the future, so I added this text under the pricing and download page:
Free during the early stage release, but we do plan to charge a cup of coffee or two per month. We believe in transparency so that you get no surprises, this will be communicated well in advance.
Last Month's Goals
| Goal | Grade |
| --- | --- |
| Launch | A |
| Market in own social channels | B |
| Sign the app for Mac | B |
| Add encryption | C |
| Create the Cloud Glance CLI | B |
Grades: A, B, C, D, E, F, Incomplete

The launch was pretty well received, there were still a few critiques, there always will be 😃, but I'm pretty proud of "just launching". There are so many loose ends and it takes a considerable amount of effort to just get the product over the line.
Adding the Encryption with the also newly launched Cloud Glance CLI took a lot longer than I planned it to. I went through almost 4 weeks of iteration until I found and developed something that felt right. So it gets a C, because it just took so much time to get done.
Cloud Glance now supports Encrypting your AWS profile secret keys with help of the Cloud Glance CLI. 🚀

In short, you have to install the CloudGlance CLI that communicates to the CloudGlance UI that returns temporary credentials. pic.twitter.com/8VrZk8toDL

— CloudGlance (@cloud_glance) September 27, 2022
This Month's Goals
The first few weeks will be dedicated to fixing bugs and other low-hanging fruit. There are 8 open issues on the GitHub page.
Then I also want to get the documentation site up and running, but I don't want to use the same framework I used for WarpURL. So I am excited to try something new, maybe continuing with the Vue3, Vite, SSG template I have for the website plus some extra scripts for markdown to html transformation. I am not sure how much content I will be able to roll out, hoping for at least 50%.
If there is any time left, I might start working on a feature I have been itching at for a while now. This is mostly my own itch, but I am sure it might be valuable to others as well, hence why it isn't a priority.
Closing thoughts
I am pretty happy that Cloud Glance passed "the mom test", next month will be important for Cloud Glance. It would be great if the DAU rate can continue or improve at the current rate while I am still building at the MVP.
---
---